ENQUIRE NOW
HOSPITALITY FINDER IN THE NEWS
"A former Formula One ace has signed up as the latest ambassador for a major hospitality firm. Johnny Herbert, who raced from 1989 to 2000 in F1, has joined Maidstone-based Hospitality Finder's Green Room events as its official ambassador for motorsport." 
"A rugby legend paid a visit to Maidstone to coach the stars of tomorrow and pass on his biggest tips. World Cup Winner Mike Tindall, brand ambassador for Hospitality Finder who helped make the visit possible, helped out with two sessions last week. Sutton Valence School pupils were treated to a training session before former England captain travelled to Maidstone Rugby Club where he met youngsters from the youth squad." 
City A.M. | October 2018
"The Green Room offering was impeccible, so much so that we missed a couple of sixes and wickets feasting and listening to anecdotes from England cricketing legends. While well renumerated for their time, I'm sure, it was the sportsmen that really elevated the entire experience. We may not have seen Cook score a century on the day, but we got to boo a future Prime Minister and you can't ask for more than that." 

Read the full City A.M. article here
The Irish Times | March 2018
As for Mullins: We were lucky enough to have passes for the Green Room. I'd never heard of it, but it's a big corporate hospitality area, and celebrities were being interviewed, like Lawrence Dallaglio and Mike Tindall, and Ronan Keating sang The Fields of Athenry. It was a fantastic end to a great day, principally having a very warm place to drink while waiting for the traffic to subside
The Sloaney | March 2018
…and they will be bringing it to some of Britain's top sporting fixtures that feature in Sloaney Season. Mike Tindall is also a crucial member of the team and The Green Room has been created to offer guests a luxurious hospitality experience as well as the opportunity to mingle with famous faces
GuerillaScope | January 2018
Hospitality Finder, the UK's fastest growing corporate entertainment provider, is to launch its first TV advertising campaign with Guerillascope.
Scheduled to debut on Sunday, January 14th, the 30-second spots will air across a targeted channel mix that includes Channel 5, ITV4, Sky Sports, BT Sports and At The Races. The campaign seeks to raise awareness of the brand's ultra-exclusive Green Room suites, in front of its core customer base of ABC1 men.
Thinking Business Kent | December 2017
Hospitality Finder is currently the fastest growing independent hospitality company in the UK - a position which has been well earned through our passion and determination to succeed. Our dedication to providing exclusive hospitality for an unparalleled spectrum of events has been a key factor in our rise to the top of our field.
South East Business | September 2017
International rugby player Mike Tindall kept delegates on a hospitality golf day amused with tales from his World Cup days. Tindall, who was a member of the 2003 Rugby World Cup squad won by England, was guest speaker at the Hospitality Finder members' day at London Golf Club and shared the stage with Strictly Come Dancing professional Anton du Beke.
johnny-herbert
Kent Director - AP McCoy Signing
City A.M. - October 2018
mike-tindall-kent-messenger
South East Business - September 2017
Kent Director - LGC Golf Day 2017
kent-invicta-chamber-of-commerce-ap-signing
kentonline-december-2017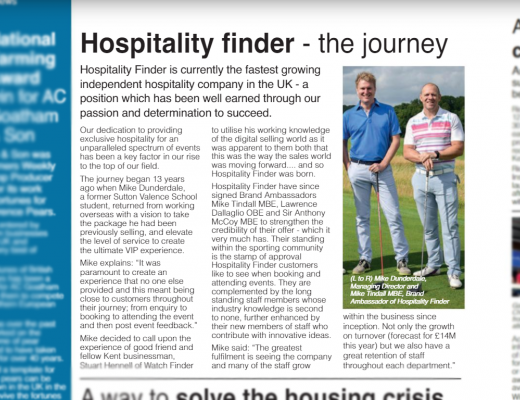 Thinking Business - December 2017
CUSTOMER FEEDBACK
Don't just take our word for it, see what our customers have to say.
Contact us
Hospitality Finder's experienced corporate hospitality sales team will be able to talk you through your bespoke event requirements in order to recommend the perfect hospitality packages to suit your needs.